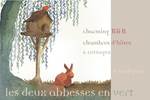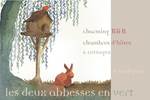 La Grande Maison | Chambre KIRIN
Presentation
The room "Kirin" is at the South West corner of La Grande Maison.

At the entrance, the Chinese horse Wei, a beautiful picture of Sara Foxa sets the tone.

Headboard, a wall painted in colors of lime "prune d'ente" answers the velvet sofa where frolic Asian riders.

Besides the incredible chromatic richness of this velvet set up by the House Canovas is its rider theme that made me crack at the time to create cushions of the sofas in the reception Deux Abbesses in Auvergne. They followed me in Périgord Vert.
Each room wearing a mythical name of legendary horse, this fabric inspired me the name of KIRIN for this room.

Above two altotypes, original works by the artist Alfons Alt, evoke our farmyard with a proud red rooster and hen a pretty burgundy.
The small cast iron tables and leave frolicking bunnies from one nut at a snail or a frog.


The canopy bed from a former convent houses a box spring and untreated wool mattresses old, made for us in Auvergne: sleep like a baby ...
porcelain pleated reading lamps are English editions as beautiful as practical.
A nice chair toad in raspberry velvet placed corner is offered for reading.
Your windows, a linen dress, the other a bayadère scratch with fig tones, you see the horses in the meadows or the small morning deer.
Vast hall bath absinthe and amethyst offers a large oval bath and a shower.



Canopy bed (170 x 210) with box spring and a pure wool mattress



Various views (terrace, courtyard and meadows)
Terrace with sun beds, tables and chairs
Irasshaimase [い ら っ し ゃ い ま せ], Welcome, Welcome!

https://lesdeuxabbessesenvert.com/category/les-logis-the-dwellings/la-grande-maison/chambre-kirin/



from 190€ /night
Your Comfort, Our Services
Bath
Bath products
Coffee maker
Double-glazed windows
Sheets and linen included
Shower
Towel dryer
Wifi
Photo gallery